It's an indisputable fact that children who are regularly exposed to books, before and during the school years, are more likely to do well in all aspects of formal education.
BUT NOT ALL BOOKS ARE CREATED EQUAL
.
Just as with your child's diet, 'junk food' books may be OK as a treat, but real intellectual and emotional nourishment comes from quality books. And just as with your child's TV intake, not everything that is mass-marketed is worthwhile.
clever kids
is a book club and workshop with a difference. It curates the very best in children's books, including illustrated picture books, information books, young adult or historical books. Importantly,
clever kids
brings you the very best books from independent and local publishers, a list too often overlooked by Big Publishing and mass-distributors.
A
clever kids
book must be stimulating, creative and challenging. It must demonstrate a respect for the intellence of the child. It must not dumb-down the reading process. It must allow the child to be challenged, to take an intellectual risk.
clever kids
books are emotionally, intellectually and creatively involving. They are indeed
'mind-growing books'
.
We further extend the enjoyment of these
clever kids
books by offering unique and hands-on workshops, from Letter Art and cartooning, ceramic art, and paper-cut artwork workshops, to author talks and more.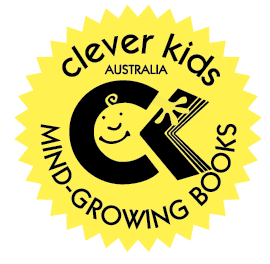 REGISTER

FOR OUR NEWSLETTER
SUBMIT

TITLES FOR REVIEW